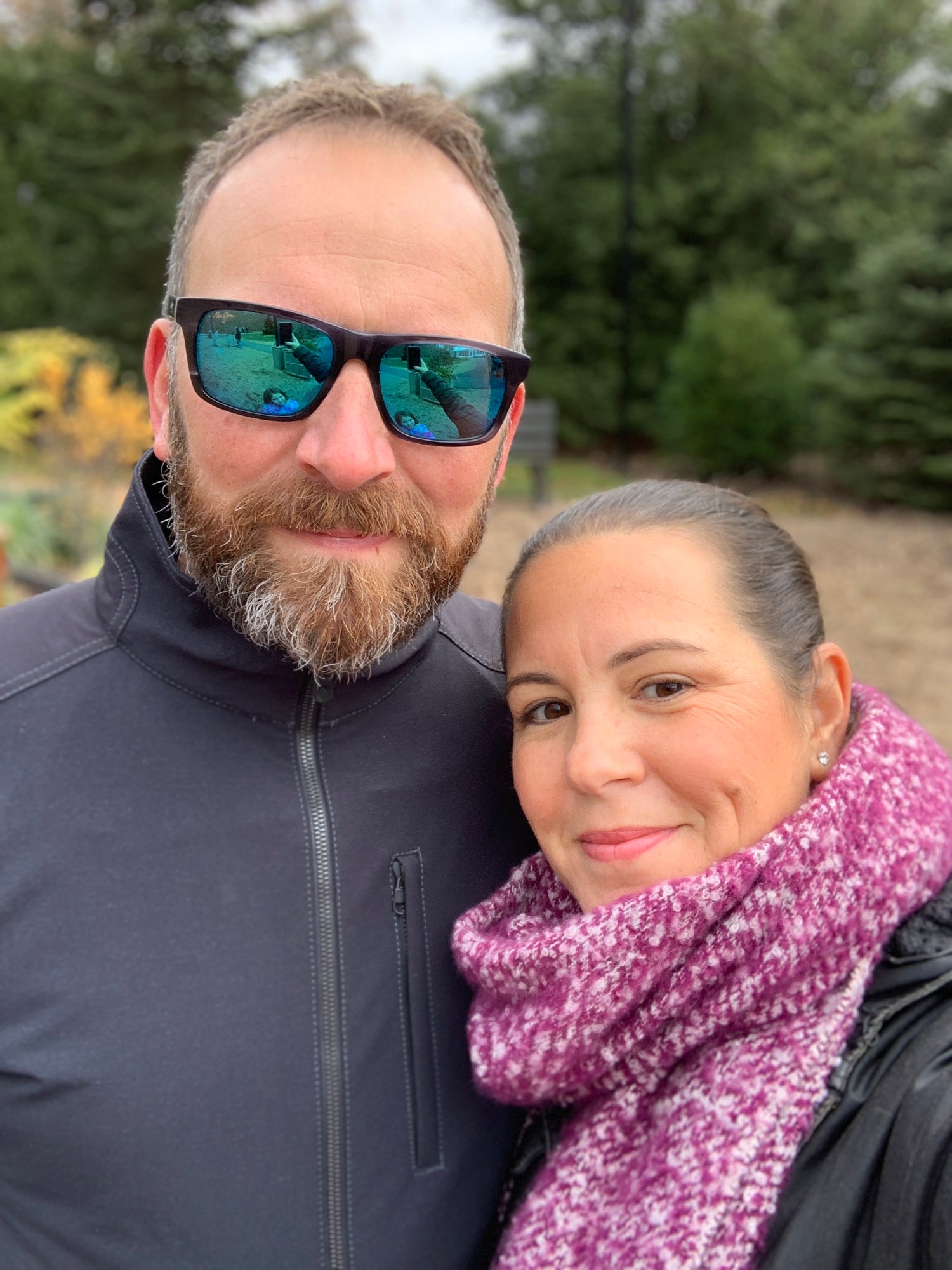 Meet the Homesteaders
Hi! We're Stephanie and David. We were your typical young-ish couple, living in Queens New York, trying to climb that corporate ladder. After accepting a 30-day challenge at our gym, we started paying more attention to what we were eating and what was in the food we ate. This quickly evolved into a weekend hobby of farmer's market shopping and visiting farm stands outside of the city. We developed relationships with the farmers we met, and ultimately a passion for the lifestyle. We even attempted to grow plants and herbs on our tiny apartment balcony! Ultimately, we found ourselves dreaming about living on our own farm during our many drives back and forth from the country to the city. 
One day we made the ambitious decision to purchase a five-acre property in Southern Chester County Pennsylvania. We packed up our small apartment and headed out to the country where we have been ever since! Our team has doubled in size since then with our daughter Tallulah and son Hudson.
I (Stephanie) started out with the dream of making and selling sheep's milk cheese until a friend introduced me to soap making, and the rest is history!
What is a Homestead?
A homestead, technically speaking, is a house and surrounding land owned by a family that is devoted to crops and animals. To us, a homestead is a way of life! The idea of creating a homestead originally came from our desire to reconnect with the food we eat, our passion to become more self-sustaining, and our pursuit of eliminating unnecessary chemicals from our home and our bodies. 
We launched Plan Bee Homestead to share our farm-fresh products with other people and families. From our pasture raised eggs to our all natural sheep's milk soaps, we are committed to providing you with the best possible products from our homestead. Pure and simple products that are free from unnecessary ingredients as well as synthetic and artificial colors and fragrances. 
Our Products
Our homestead began with a simple goal of providing our family with better quality products, which is why we use only the highest quality ingredients that we also use in our own home. We adhere to organic practices and personally weed our gardens by hand. Our primary focus is on hand-crafted sheep's milk soap, but we also offer other seasonal products such as farm-fresh eggs, raw honey, and more.
The key ingredient in all of our soaps is our sheep's milk. We hand-milk our sheep; they provide all of the milk needed for our soap-making process. Their raw milk is used in the base of each soap recipe, which is combined with skin-loving oils and butters to create a rich and nourishing soap. Many of our soaps are colored with natural elements like charcoal, clay, cocoa powder, and even spirulina!
Our Crew
The Kids

These kiddos are keeping busy outside and are almost always covered in dirt. They are growing up raising their own food, learning how to hand-milk sheep, trying to save the bees, and wrangling chickens!

The Ladies

These birds are living the good life! They have complete (and I do mean complete!) free range of the homestead and spend their days scratching and eating to their hearts' content.

The Ewes

Our herd of sheep are a mix of two dairy breeds; East Friesian and Lacaune. They enjoy grazing all day on fresh pasture. Sheep's milk is rich and creamy; the perfect combination for delicious cheese, velvety yogurt and nourishing soaps.

The Honeybees

Caring for the health and stability of our hives comes first; our goal is to protect and increase the population of these essential pollinators. Collecting honey is a sweet bonus to working with these bees!

The Pups

Paisley and Rafa are our Maremmas; livestock guardian dogs that live and protect our herd of sheep and flock of chickens. They live full-time with our livestock and keep them safe from potential predators.